Treehouse
My dad and I built a treehouse on my parent's property during my sabbatical.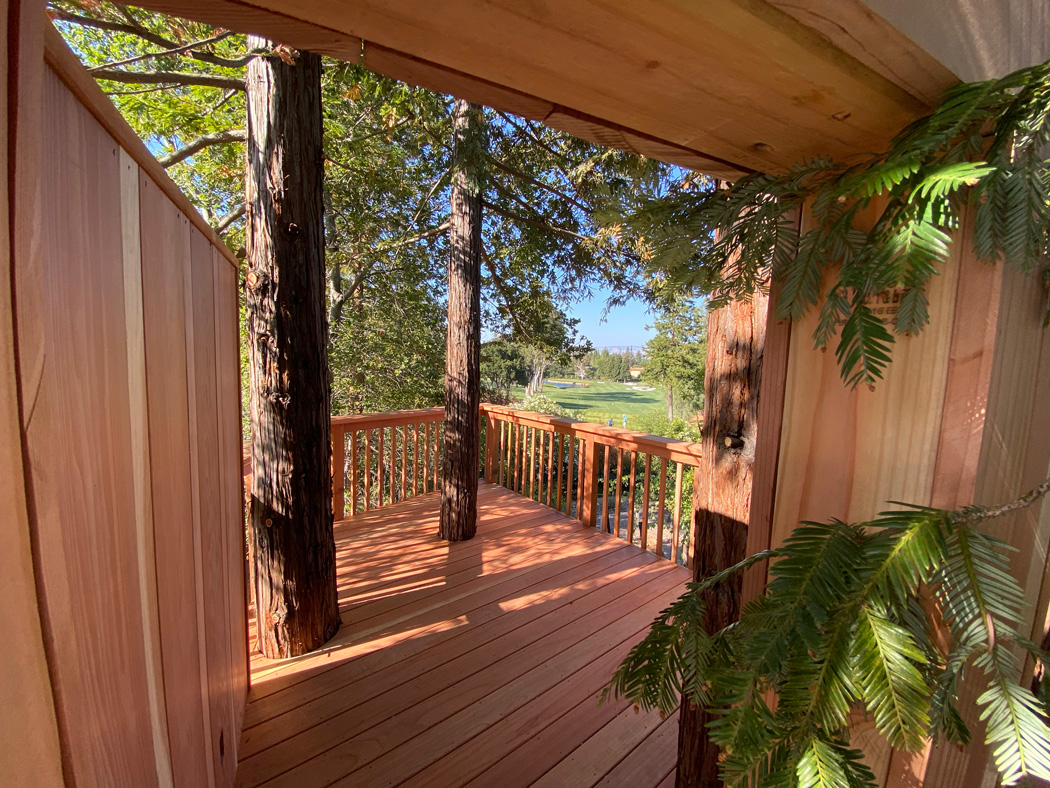 Origins
Growing up, I thought treehouses were incredibly cool, and would gaze longingly at the treehouse in my neighbor's backyard whenever I passed by. As an adult, I still think treehouses are very cool - there's something special about having a little space that's set apart and tucked away in nature. They evoke the sense of being in a remote cabin, but are accessible from your backyard.
After five years at Clever, employees are graciously rewarded with a 5-week sabbatical. With COVID-19 taking most travel ideas off the table, I decided to carve out a week and a half to build a treehouse with my dad in the backyard of my childhood home in Los Gatos, CA.
About the treehouse
The treehouse is a roughly 150 square foot deck and two freestanding walls, elevated 12 feet off the ground and spanning across four redwood trees in the back corner of my parent's property. The deck, wall, and railings are all made out of redwood, and the whole structure is supported by a "foundation" of pressure-treated redwood beams anchored into the four trees.
The treehouse was built on the highest spot in the backyard, and has beautiful views of not just the backyard but also the golf course immediately behind my parents house and the foothills beyond. Because the treehouse is a dozen feet off the ground and shaded by the redwoods supporting it, it also ends up feeling a pleasant 5-10 degrees cooler than the rest of the backyard.
The two walls of the treehouse meet in a corner, providing a nice windbreak in addition to some privacy from and for our immediate neighbors. There's a window too, just for fun. We ran electrical wiring up to the treehouse to power a small refrigerator and some low-voltage outdoor lighting. The golf shed just below the treehouse already had a wifi hotspot, so there's internet access as well!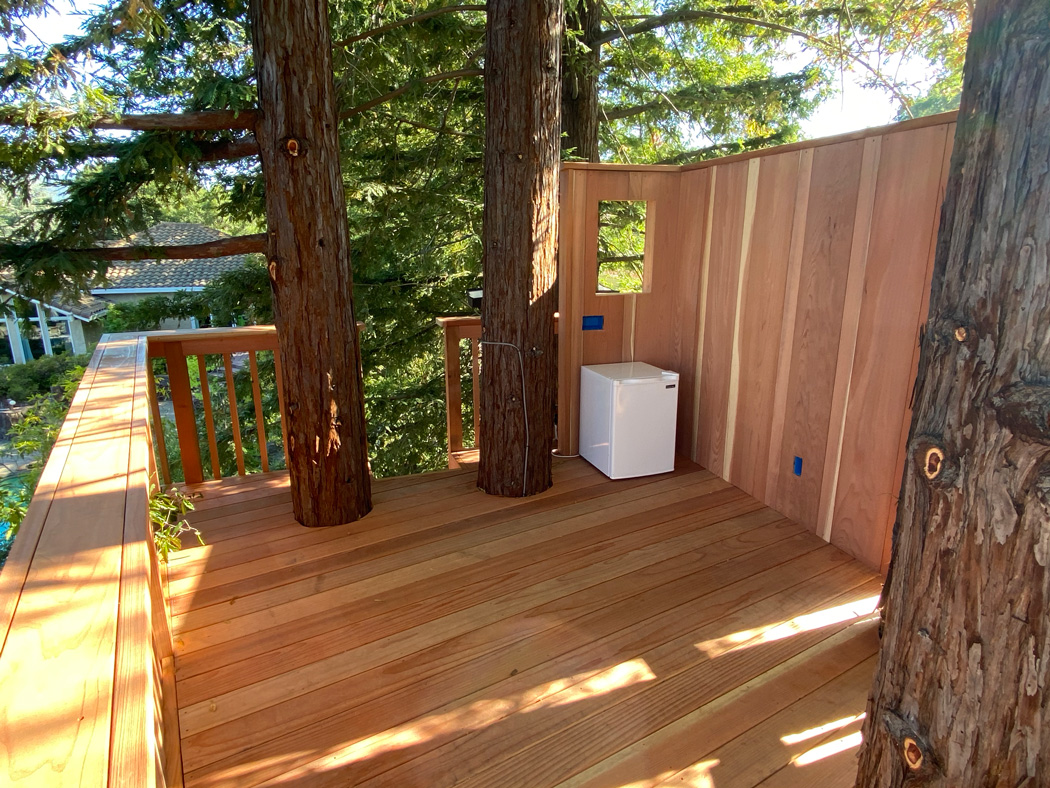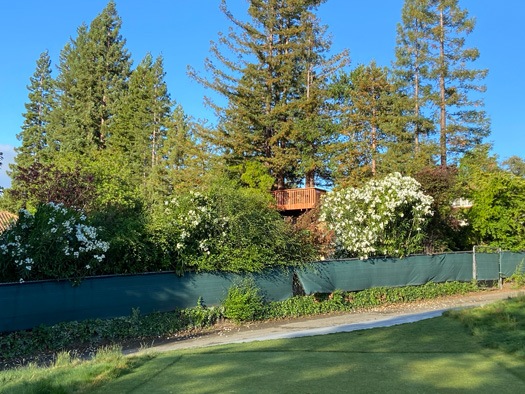 Left: finished deck and wall. Right: view of the treehouse from the golf course
Building the treehouse
The very start of the project - back when it was more of a "what if" than something we really planned to do - was figuring out where and how we might build a treehouse. We were very fortunate that tucked away in the far back corner of my parent's property was a cluster of four redwood trees arranged in a roughly 8'x10' trapezoidal shape, each tree over a foot in diameter and fairly straight. Neither my dad nor I had ever built a treehouse, but we figured that with these trees it should be possible. After lots of research, sketching, and debating about what the structure would look like, we settled on a design based on a deck that spanned across, was supported by, and ideally encompassed the four trees. We figured we'd get about 100 square feet of usable space out of it, and that the four trees would give us significantly more support than trying to cantilever out from just one or two.
The first step was putting in the "foundation" - a set of pressure-treated 2x12 redwood planks held in place by a 1" steel bolt running through the full diameter of the tree. Eight planks in total (two for each "edge") formed the main supports, with additional planks spanning across and affixed into those to frame out the rest of the deck. Getting this foundation into place was a huge amount of work - boring clear through a redwood tree is a tough job, let alone doing it eight times, 12 feet off the ground, and ensuring it comes out level. We fortunately had both scaffolding and help from two people who knew a lot more about building decks (and had the heavy-duty tools we needed), otherwise it would have been nearly impossible. Even with the help, it took two days of solid work.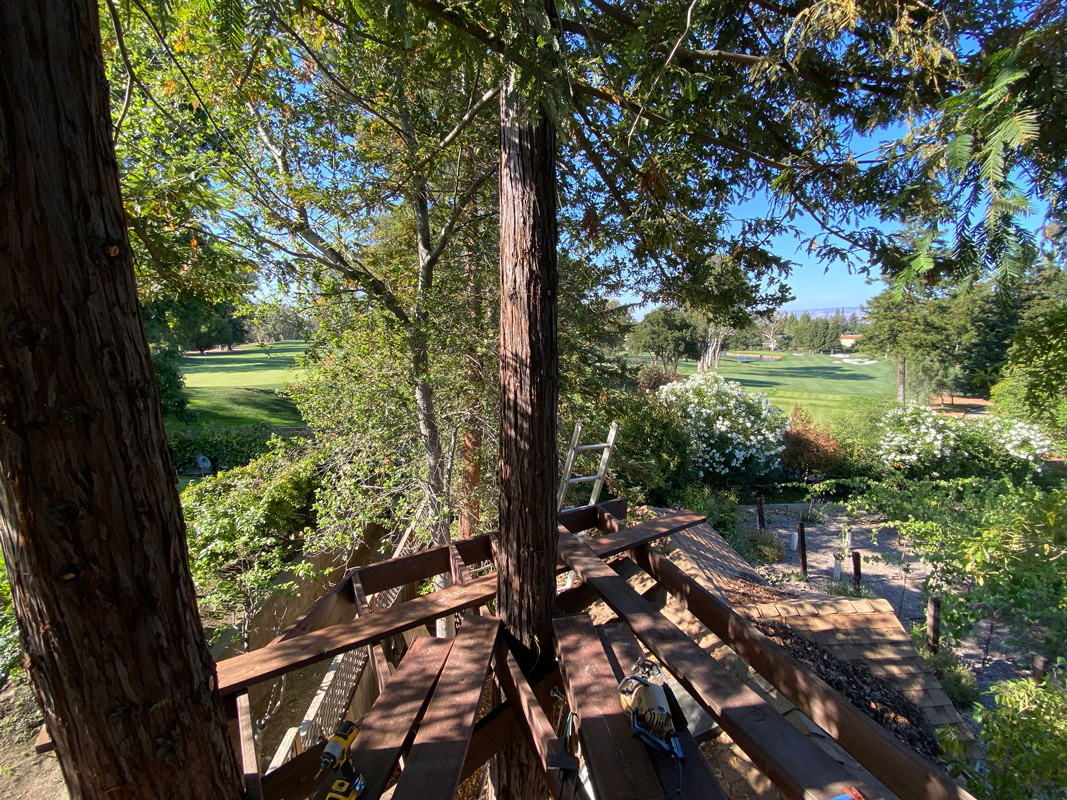 Close-up of the main supports and framing
Once the foundation was in place, the rest went relatively smoothly. Shaping the decking to encircle the trees took some precision cutting, but we were able to lay out the deck over the course of a day and add the railing over the next two days. I quickly came to appreciate how much effort is involved in just moving all the raw material around - hauling lumber to the corner of the property and bringing it up to the platform was at least 20-25% of the work.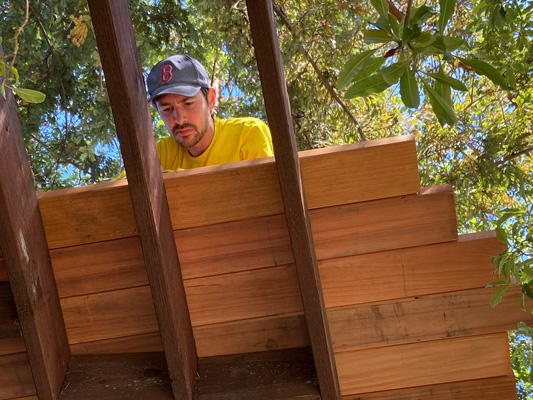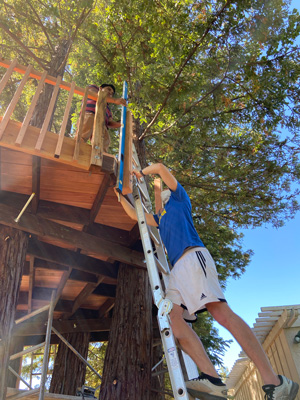 Close-up of the main supports and framing
With the decking in place and the railing up, we now had a secure, relatively safe platform that was starting to feel like a treehouse! The final piece was the wall - from the platform we had a pretty direct view into our neighbor's house and backyard, and by this point they were starting to be a bit concerned. The wind up in the trees was also quite a bit stronger and gustier than at ground level, so a wall would serve as both privacy and windbreak. We debated the appropriate height and shape of the wall, eventually deciding to make an L-shaped pair of walls about 6½' tall. After framing it in standard 2x4s, we finished it with a collection of beautiful redwood heartwood panels that served as a natural "wallpaper."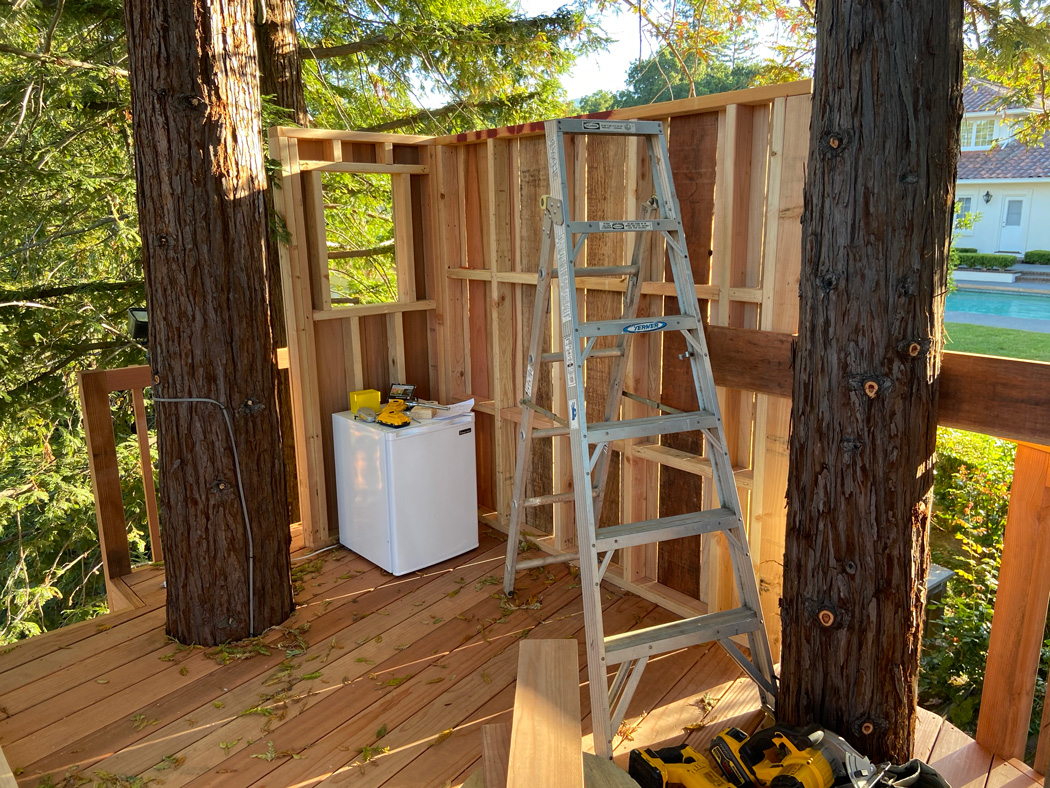 Reflections
The treehouse turned out great, far exceeding both my dad's and my expectations. Spending an evening up in the trees at sunset is a pretty magical experience given the panoramic views and wind rustling quietly through the leaves. It's a special place. While I was always enamored with treehouses, my dad has really caught the bug, and has gone up in the treehouse nearly every day over the last several weeks since we built it.
Most project's I've built previously have been small, electronic-focused desk gadgets; this project was a whole different experience, and in some ways even more satisfying. The sense of permanence and substance of a construction project is quite a bit greater than my previous works, and the treehouse is a lot easier for other people to experience and enjoy than my more personal creations. Also, there is something primally satisfying about putting in a full day's work of physical labor.
Throughout the project we were very fortunate to have help from a contractor named Nahum, without whom the treehouse would never have turned out as it did. It was also a great learning experience for me - he knew and deployed dozens of different tricks and shortcuts to expedite the work. For example: using a pre-cut block as a spacer to maintain a uniform gap between the pickets of the railing rather than having to use a measuring tape and level each time. Nahum was able to accomplish tasks alone that for me would have required 4 hands and taken three times as long! It was impressive to watch, and illuminating to try to imitate.
Treehouses really are something special, and I'm very proud of how this turned out. It'll probably be a while before I have a property of my own with enough space for a treehouse, but when I do, I will definitely build another.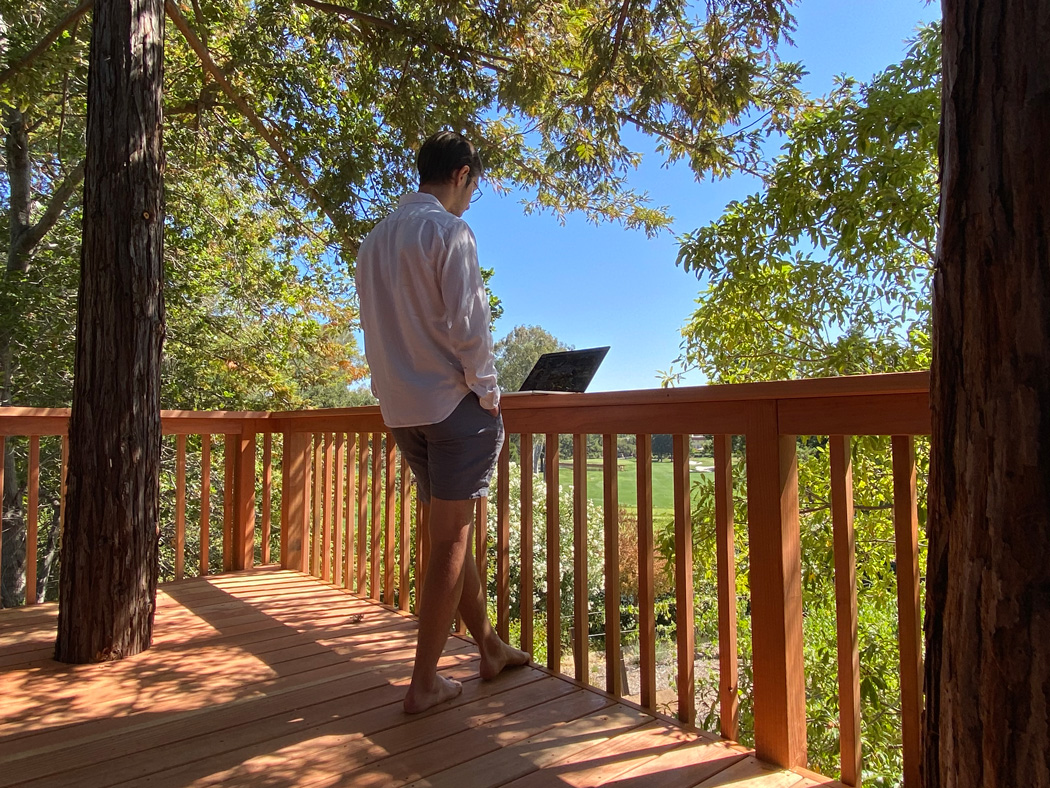 Enjoying the view from the treehouse during our daily team standup